Eric Hernandez, the driving force behind Bruno Mars' live shows and radio hits, relies on PDP and DW to translate his rhythmic ideas into certified gold. The PDP Concept Eric Hernandez Signature Snare Drums are a first for PDP — the first series to feature shell reinforcement rings, known for giving shells a classically dry, throaty attack, and gold-plated hoops and hardware, a trademark for which Hernandez's drums are known. These all-maple snares are packed with time-honored piccolo punch and a dryness that translates beautifully to recordings. DW-inspired hardware includes Dual Turret lugs, tight-threaded True-Pitch tension rods, and a MAG magnetic throw off, which hold snares wires securely in the "on" position until acted upon by an outside force. Collectors and fans of Hernandez's work will especially enjoy the E-Panda signature badge.
Related Videos:
 

Eric Hernandez Signature Snare Drum - 4 x 14 inch - Black with Gold Hardware
Born in the studio
Eric and Bruno experimented with a piccolo snare to exploit a '90s New Jack feel on some of the tracks on 24K Magic. PDP built Eric this snare to allow him to capture that same vibe and energy out on the road.
6-ply maple shell with 6-ply re-rings
A thin 6-ply European maple shell and a set of 6-ply reinforcement rings give the PDP Eric Hernandez Signature Snare excellent sensitivity and a dry, throaty attack. It's notable that this is this first PDP shell to feature reinforcement rings — a feature which fans of that classic sound will love.
DW-inspired gold hardware
When it comes to Eric's drums, gold hardware is a must. That's why the PDP Concept Eric Hernandez Signature Snare Drum's lug casings, throw off, butt plate, and hoops are all plated in gold — another first for PDP. The gold plating looks especially fetching on the DW-inspired Dual Turret lugs and MAG throw off. An E-Panda signature badge completes the look.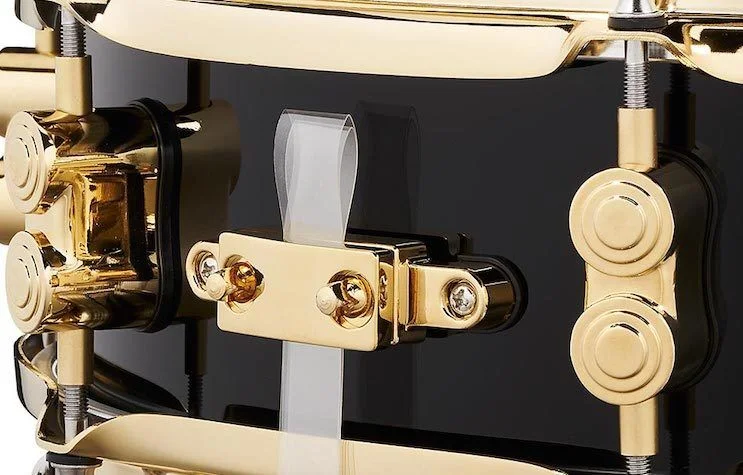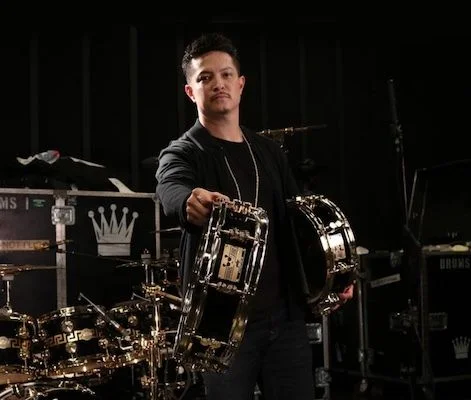 PDP Concept Eric Hernandez 14" Signature Snare Drum Features:
Signature snare from Eric Hernandez (Bruno Mars) and PDP
Replicates a piccolo snare Eric and Bruno favored in the studio
Trademark black paint job with gold-plated hardware
Packed full of '90s New Jack goodness
6-ply European maple shell with 6-ply reinforcement rings is dry, full, and throaty
Triple-flanged hoops keep attack full and open
MAG throw off holds snare wires tight, even when tensioned loose
Dual Turret lugs inspired by DW
Signature e-Panda badge
Matching black 2-ply batter head from Remo
Size: 4" x 14"