Iconic Jackson body style
Grover Jackson's Dinky body style is to hard rock and metal what the Camaro is to drag racing. Contoured and lightweight, the Dinky provides the hard-line visuals, comfortable carry, and unlimited high-fret access that modern players demand.
Diverse Seymour Duncan pickup set
If you're a single-guitar performer like many of us at Sweetwater, you'll particularly love the Pro-Mod DK24's diverse tonal potential. For drive, the Full Shred SH-10 bridge humbucker packs a big, focused low end and about as much sustain as you can get from a passive alnico pickup. And when you need to clean up, the Jazz SH-2 neck humbucker is a breath of fresh air. This pickup boasts great touch dynamics and a sweet, bluesy top end that's perfect for true cleans and verge-of-breakup tones.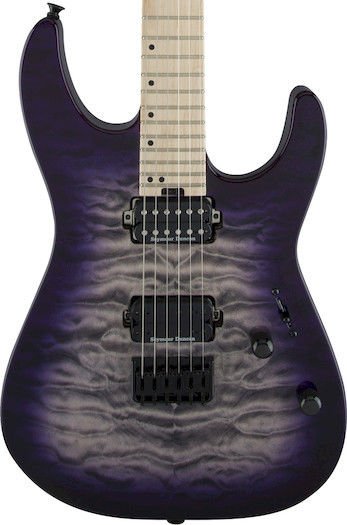 Fast, stable, comfortable reinforced maple neck
The Pro-Mod DK24's neck and fingerboard are spec'd to meet the demands of the technical player. The Charvel Speed Neck is built from two pieces of maple and graphite reinforced for a lifetime of rock-solid dependability. A heel-mounted spoke wheel facilitates speedy truss rod adjustments, while four heavy-duty bolts provide superior sound transmission from the neck to body. Fretside, the compound-radius fingerboard flattens out to an arrow-straight 16" in the upper registers and comes fitted with 24 jumbo frets for maximum speed and control. Rolled fingerboard edges keep thumbs and fingers comfortable during play.
Charvel Pro-Mod DK24 Electric Guitar Features:
Iconic Jackson Dinky alder body provides unlimited fret access
Beautiful quilted maple top
Two-piece maple Speed Neck is fast and stable
Heel-mounted spoke wheel facilitates speedy truss rod adjustments
12"–16" compound-radius rolled-edge fingerboard is built for speed and comfort
Tone- and tuning-maximizing hardtail bridge design
Full Shred SH-10 bridge humbucker (14.1kΩ) packs a tight low end and loads of sustain
Jazz SH-2 neck humbucker (7.5kΩ) adds touch dynamics and a sweet, bluesy top end